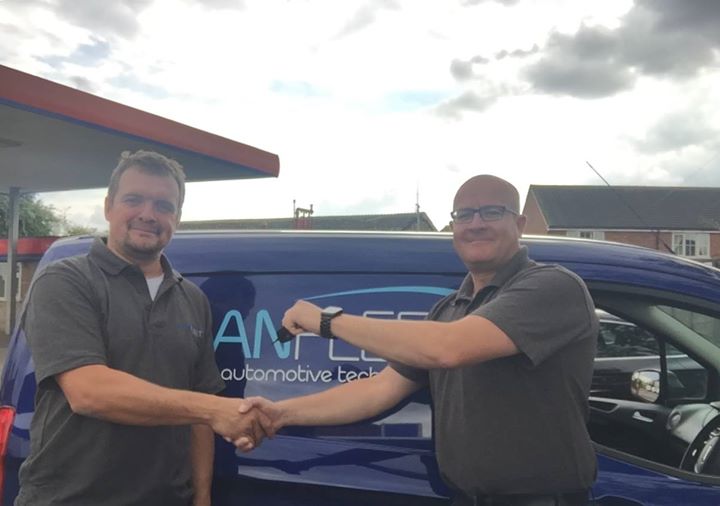 "I have very happily worked for Avian for over 2 years and feel very lucky to work for such a supportive, interesting and diverse company. I am the proud leader of a committed and professional team who strive to provide excellent customer service whilst meeting the requirements of our clients."

Maria – Team Leader, Insurance Desk
"One of the best and most supportive companies I have worked for."

David
"It's been a pleasure working with Avian Mobile, I've been here 3 years and it's been amazing, looking forward for the future working with Avian."

Sanjay
---
Customer Account Team Co-ordinator
Department: Call Centre
Salary: Competitive dependant on experience – plus bonus
Reports to: Customer Accounts Team Leader
Role
Your principal role will be to book in and allocate out installation work and its related equipment in accordance with designated and monitored guidelines and standards.
To carry out your role, you will be required to liaise closely with representatives of a designated set of Customer Accounts, their users, field engineers and suppliers to ensure that work is carried out effectively and to customers' satisfaction.
Responsibilities
You are responsible for ensuring that all your activities are performed in an efficient, courteous and timely manner in accordance with the company's Quality Control System and Health and Safety regulations.
To maintain and uphold the reputation of Avian Mobile at all times.
Duties
The activities below relate to the day to day functions of your role:
Booking installation work politely and efficiently
Ensuring all documentation, both computer and paper based is accurate and on time
Liaising with other relevant members of staff to ensure that sufficient paper work and information is communicated to enable shared jobs to be carried out efficiently and that ultimately there is sufficient documentation to permit the prompt creation of invoices to clients
Being the first point of contact for day to day operations on your designated accounts, you are required to maintain regular communication with the designated contact name
Where possible and applicable, you need to put forward Avian Mobile as their installers of choice for all in-car installations and to liaise with our designated sales representative for that account if you are aware of potential opportunities
Where applicable, ensure that bookings are made in accordance with Purchase Orders received to the extent that there is sufficient value in the POs to cover booked work
In addition, if required, to make sure that payment is received for jobs carried out by taking credit card details and processing for payment
Allocating jobs to Avian Mobile engineers and Sub-contracted engineers in accordance with given guidelines
Where appropriate, use engineers' diaries efficiently by always trying to allocate work in the most cost efficient manner
Communicate with all other members of staff in a professional and effective manner
To perform, from time to time, within reason, any other duties as required by your manager or any member of the senior management
Requirements
Previous experience in a customer service role
Strong phone and verbal communication skills along with active listening
Customer focus and adaptability to different personality types
Ability to multi task, set priorities and manage time effectively
The position will be to work 37.5hrs, covering Monday – Saturday work patterns. Therefore it is a preference that applicants are able to cover each of the above working days.
Why people love working for us!
Competitive starting salary
Performance related bonus scheme
Full training provided
Pension scheme contributions
Employee Benefits Scheme providing discounts on travel and much more
Is this the next challenge for you? Apply now by submitting your CV and covering letter today!
Successful candidates may be shortlisted for a brief telephone interview.
Avian Mobile is a supporter of equal opportunities in the workplace.
---
Auto Electrician
Avian Fleet is an award winning and accredited service provider who supplies a full range of vehicle based products and in field services to companies throughout the UK. To date, we have carried out installation and service work on more than 1,000,000 vehicles, including over 50,000 front line emergency service vehicles.
Due to continued growth we are expanding our highly skilled team of Auto Electricians and can offer full time opportunities Nationwide to service our portfolio of clients by performing installation, repair and maintenance related duties.
Benefits
The Auto Electrician role offers a fantastic opportunity for training, progression and development, presenting you with endless opportunities to build on your existing skills and knowledge, working on the latest technology in the industry. Avian Fleet is a supporter of equal opportunities in the workplace.
Competitive salary £25,000 – £27,000 OTE

In addition to your salary there is a performance related bonus scheme.

Company vehicle

Company mobile phone

Company uniform provided

Full training and specialist equipment provided

Pension Scheme for eligible employees

Avian Fleet is a supporter of equal opportunities in the workplace.

Staff Benefit Scheme providing travel and holiday discounts, annual passes and much more
Role Profile
Reporting to the Regional Engineering Manager you will be:
Providing an efficient installation service for black box vehicle devices, vehicle tracking equipment and telematics

Fitting blue light and multi channel CCTV systems for new client contracts

Liaising with office based personnel with regards to new assignments

Accurate information must be logged, ensuring timely delivery and a first class service

Visiting existing clients to perform diagnostics and maintenance on fleet equipment

Working alongside senior engineering personnel to gain further understanding of technical installations

Completion of all appropriate paperwork
This Auto Electrician role requires a good level of attention to detail, planning and organisation. It is expected that you will provide a timely, polite and efficient service to all clients and ensure that maximum customer satisfaction is achieved on all work. It is desired that you have a strong interest in cars and engineering and have an aptitude to pick up new technologies.
Skills & Experience
A good technical understanding of automotive repair, electrical engineering and auto mechanics with an interest in new developing technologies

Good, hands-on field experience in a similar role is highly desirable

Strong customer service skills, possessing the ability to translate information to non technical clients

IT literacy and a good level of written and verbal language skills are required

Commitment to obtaining results through taking responsibility, demonstrating a positive attitude and ensuring quality is built into work on all assignments

This role is typically suited to an individual with at least 1 year's work experience in the field of both Auto Mechanics and Electrics although we would consider someone who has recently completed a relevant apprenticeship.
Is this the next challenge for you? Apply now for an immediate start by submitting your CV and covering letter today!
---